Starting in early May 2020, a new version of the StatsPlus Desktop app is being released to move on from APIs that Slack no longer allows. The version number is changing from v0.9.x to v1.0.0.
When you install this new version of the app for the first time, for each league you will need to install a new Slack app in each league's workspace. This process replaces the manual process of requesting a Slack test token and getting a webhook URL.
After starting the app, go to Settings, and click on the Slack tab. You should see something similar to this at the top of the Slack settings:
Do not be concerned that your other settings don't appear, they are still saved, and will be back shortly...
---
Click the "Add to Slack" button, which will bring up a browser window asking you to authorize the StatsPlus v2.0 Slack App (the desktop app is v1.0, the Slack app is v2.0). You may need to log in to the Slack workspace you want to link. The window will look like this when it's ready for you to Allow access: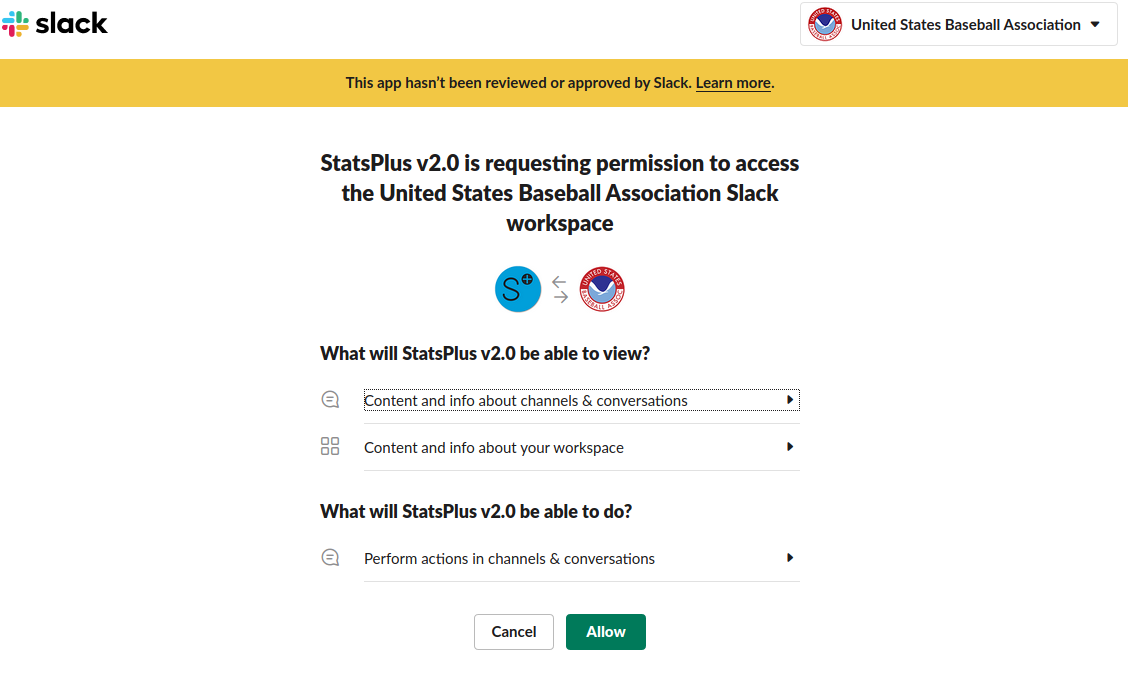 Check that the workspace is correct before you click "Allow". If you use more than one Slack workspace, you can change to a different one via the drop-down in the upper right of the page.
---
After allowing access, you'll be redirected back to a StatsPlus web page to indicate successful issue of the token. That page will look like:
You may copy that token down if you want, but it's not necessary as it's easy to re-issue the same one any time.
---
Within a few seconds, the token will show up in the Desktop App, like:

Also, the rest of the Slack settings like channel names should re-populate.
IMPORTANT You should hit Save on the Slack tab at that point to save the new Slack token in the settings.
---
The last step will be for each GM that has a private score channel. The new Slack integration requires the app being added to a private channel before it can post.
Share the following with each GM that has or wants a private score channel - Inviting Slack App to a Private Channel