¶ /exports Command in Slack
StatsPlus supports a /exports command that can be used in Slack to post back the current export status. An example of the output:

The command can be configured to include @'ing users associated with teams that haven't exported on the current game file, and to be allowed by any user, or just StatsPlus admins.
If the commissioner / S+ admin does not run a team in the league, then for now you will need to contact @dave by DM on the StatsPlus Slack to have your Slack user authorized to run the command.
Configuration of the options can be done on the Administrator menu, under General Settings: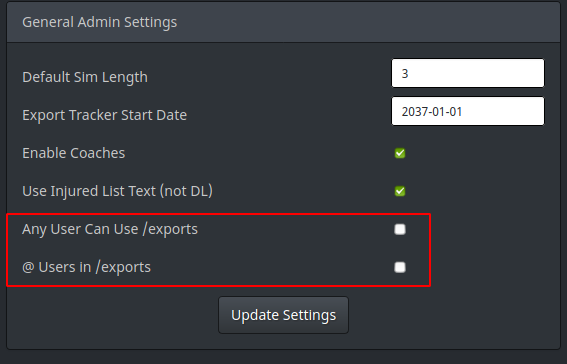 The default setting is for only admins to be able to run the command, and Slack user IDs would not be included in the message (@user).
To add the /exports command to your Slack workspace, do the following steps:
Visit https://xxxxx.slack.com/apps/A0F82E8CA-slash-commands (IMPORTANT: Replace xxxxx with your slack Workspace URL)
Add a new configuration (hit the Add to Slack option, even if you already have other commands set up), and set it up to match the following screenshot. The "token" field should be left as-is, whatever Slack defaults to is fine.
For the Custom Icon, please upload this image and use: https://statsplus.net/statsplus_logo_150x150.png