The easiest method to configure the CSV dump is to download and use one of the config files below. Steps:
Make sure OOTP is closed
Download config with scouts or config without scouts. Make sure the file is named db_dump_standard_csv.cfg
Copy the cfg file to .../saved_games/LeagueFile.lg/settings/db_dump_standard_csv.cfg
Note: To find your league folder, you can follow the steps at League Folder Location
Restart OOTP
This method isn't recommended, but if you want to set the CSV config manually, it should match the following screenshots exactly.
Open the league file in OOTP, the go to Game Settings->Database tab. Then click on "Database Tools", and choose "Configure Data Export for CSV Files" as shown in the following screenshot.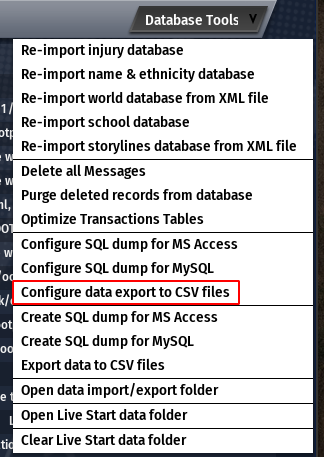 This will bring up a list of tables for OOTP to export. Change the settings to exactly match the list below. Note the only table excluded is game_logs, plus "Show real player ratings" and "Show no player ratings" should not be checked.
Un-check the "Additional complete scouted ratings" checkbox if your league doesn't use scouts.