StatsPlus login system will be used in upcoming features, such as showing you a single home page with links to all the leagues you are in that are using StatsPlus, as well as creating and saving filters for different views that will work in all the leagues you are in.
When a user creates a new StatsPlus account, and logs into a league they are already a member of, if the e-mail address used to create and verify the account matches one already in the league, the account will be automatically linked to the current team.
Auto-linked accounts don't automatically get admin rights, contact the StatsPlus admin to have admin added for any new accounts.
All accounts must be tied to a valid e-mail address, and require verification via e-mail to be activated.
The StatsPlus login system allows you to log in to StatsPlus using a unique account, not tied to any other provider. After you hit the "Login" link, you will be taken to a screen with an option to choose your login method: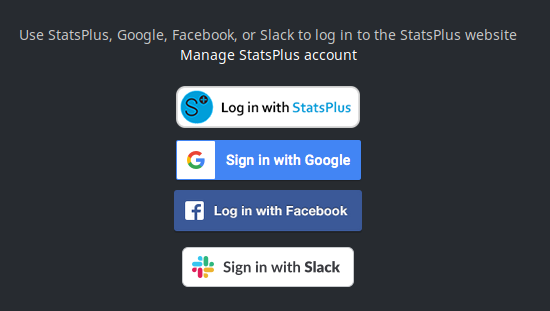 If you choose "Log in with StatsPlus", and are not already logged in to a StatsPlus account, you will be taken to a login screen: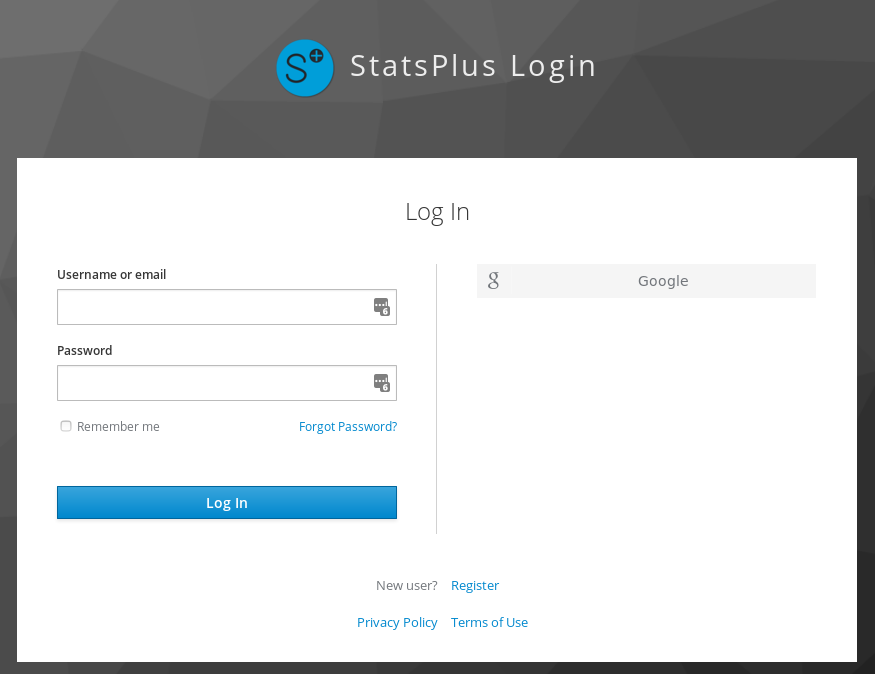 You do have the option to create a StatsPlus account that is linked to a Google account, you can do so by pressing the Google button. If you choose this option, you won't have to track a separate password for StatsPlus. You will still receive a verification e-mail at the chosen Google account, containing a link to click to confirm that you own the Google account and want to link it to the StatsPlus login.
To create a new StatsPlus account not linked to any other system, click Regsiter, then fill out the fields. You will need to supply a valid e-mail address to confirm your account, a unique username, and a password that is at least 8 characters long, and has at least one capital and one small letter. After you have entered valid data, hit Register, and the system will send you an e-mail to be confirmed. The notice looks like: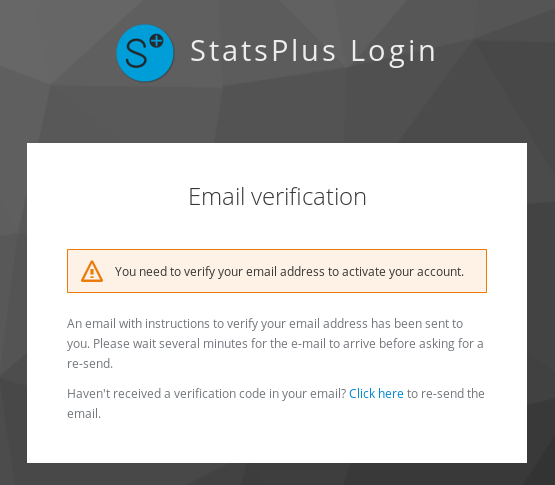 The e-mail is sent immediately, with some providers you may need to check your spam or junk folder to find it. The e-mail contents looks like:

After clicking the verify link, you should be sent directly back to StatsPlus, and if your e-mail address was already linked to a team in your league, you'll be automatically linked to that team. If this is a new e-mail address, you'll see the following message on all StatsPlus pages until your league admin / commissioner links you to your team.

If you need to manage your StatsPlus account, such as changing your password, or linking or un-linking a Google account, you can reach the StatsPlus account login directly at https://statsplus-login.net/, or clicking "Manage StatsPlus Account" on the Login screen or on the User Preferences Screen.